Air quality index
---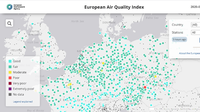 How clean is the air you're breathing right now? How does the air in your city compare with that of a neighbouring city or region?
Air pollution is the single largest environmental health risk in Europe. The European Environment Agency's European Air Quality Index allows users to understand more about air quality where they live. Displaying up-to-the-minute data for the whole of Europe, users can gain new insights into the air quality of individual countries, regions and cities.
Source: Latest interactive maps
---
Added:
Thursday, November 16th, 2017
Added By:
egreenews
Vote This:
Comments
---
Comments are closed.