Renewable energy in Europe – 2017 Update: Recent growth and...
---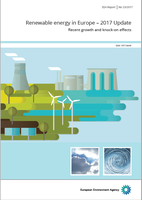 This report outlines the progress renewable energy
sources (RES) made in 2015 in the European Union (EU)
as a whole, and at country, market sector and technology
level. It also provides early European Environment
Agency (EEA) estimates regarding developments at all of
these levels in 2016.
The report confirms that the EU remains on track to
reach its 20 % RES share target for 2020, despite RES
growth across the EU having recently slowed.
Source: Reports and publications
---
Added:
Sunday, December 17th, 2017
Added By:
egreenews
Vote This:
Comments
---
Comments are closed.